Link To Us
Would you like to include a link to C-Magic on your web site? Use the URL and/or the banners below (Right Click then Save Image As...):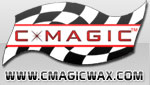 http://www.cmagicwax.com
If you have linked to our web site, let us know by using the Contact Us page.
Add Your Link Here
Would you like us to link to your web site here on this page? You may send us a request by using the Contact Us page. After reviewing and approving your request, we will let you know if you can be added to the page.