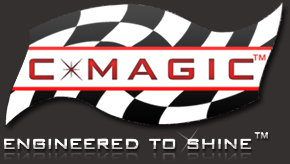 PROVIDING ADVANCED ENGINEERED POLYMERS TO DETAIL ENTHUSISTS WORLDWIDE WITH SATISFACTION GUARANTEED
C-Magic's environmentally compliant products are formulated for automotive, aero and marine enthusiasts who seek show quality results and superior longevity. Our products are user friendly in application ease, long lasting, and provide remarkable results through recent chemical advances.
Our initial introduction to the automotive public began modestly almost six years ago. Since then, the National Corvette Museum's R8C Delivery Program and auto enthusiasts worldwide have cast C-Magic as a leader in the automotive wax and detailing industry.
Not satisfied with marketing a different color or scent from an existing manufacturer, we started with new formulations after defining our product goals. Research led C-Magic to advanced polymers in the very beginning; continuing today with the latest in formulation designs in each of our product lines.
Not just for Corvettes, C-Magic products perform superbly on any automobile, old or new, domestic or foreign. C-Magic customers have fielded show winners at numerious Corvette events and Collector Car events such as Ferrari Cavallino, Rolls Royce Club of America and Pebble Beach. Take at look at our product line and feel comfortable that your investment, whether an older driver or a multi-million dollar collector car, will look as it has never looked before!
* Guaranteed to your satisfaction, C-Magic will refund your full purchase price. Try C-Magic and see why show winners from the local Saturday night drive-in to Pebble Beach are talking about C-Magic!